by AJ Adejare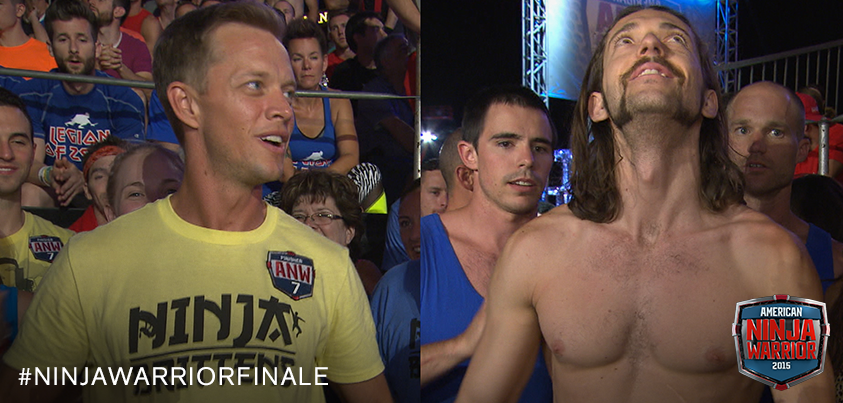 It all comes down to this night.  It's the end of another season of American Ninja Warrior, but questions still remain: will this course be conquerable?  Will we see new stars rise with the old?  Will anyone conquer the course
Results:
Stage 2
8 Finishers
First Finisher: Ian Dory
Fastest Finisher: GeoffBritten
Stage 3
2 Finishers
First Finisher: Isaac Caldiero
Fastest Finisher: Isaac Caldiero
Last Finisher: Geoff Britten
Stage 4
2 Finishers
First Finisher: Geoff Britten
Fastest Finisher: Isaac Caldiero
First American Ninja Warrior: Geoff Britten
Winner of American Ninja Warrior Season 7: Isaac Caldiero
7 Things we learned:
Rotation: The one thing that took out a lot of Ninja was the Roulette Row on Stage 2.  Just like the Metal Spin, you have one shot and if you don't make it, you're done that's what ultimately got Flip Rodriguez as well as other competitors.  The Unstable Bridge also had a lot of competitors taken out as the transition to the unstable part wasn't soft and thus either rotated out or gassed them out (like Brent Steffensen) For Joe Moravsky, the modified Ultimate Cliffhanger, he also tried doing a 180 rotation to get to the second part of Ultimate Cliffhanger, but it failed.
Little Slips, Big Dips: Ian Dory almost completed the course but a little slip on his hands and he ended his run in the waters.  The same happened to Drew Dreschel as he one minor slip on the climbs and ended his run on Stage 3.  Brutal.
Psycho Ranges:  The Psycho Chains were actually a good addition to the course and having the Poll Grasper to the Hang Climb also seemed a bit crazy but well implemented as well for Stage 3.
No Shame: For a lot of the competitors, to go out on their respective stages was admerable.  There were times were you just gasped as you thought they had it, only for it to not work out.  You all did well, take a quick break (technically you already did) and go back at it.  Looking at you Kevin Bull, and Abel Gonzales, as well as a lot of others that I'm too lazy to list.
Tactics: A lot of American Ninja Warrior relies on tactics.  Moving from obstacle to obstacle, if you're not thinking steps ahead, you won't come out.  Fitting, when the climb off occurred, Caldiero did a good tactic: Be the last.  While it added extra pressure, he was able to gauge his pace and climb up.
First and Best: A lot of people will debate it on the internet, but let us be clear: Geoff Britten is the First American Ninja Warrior as he completed Stage 4.  Issac Caldiero is the best as he WON American Ninja Warrior.  With that said, both deserve it and both will probably see a lot of people come knocking on their door for money opportunities.  Good luck to both of them.
Conquerable: Britten and Caldiero proved it: Mount Midoriyama is conquerable and is able to be beaten.  It takes skill, drive, mental fortitude, and a bit of luck to go through.  With that being said, since it has been conquered, I'm expected a total reset of most of the courses and an essential reboot of the obstacles as that's what happens when total victory is achieved.
Congrats to Geoff Britten and Issac Caldiero for completely the stages and achieving Total Victory.